AUSTRALIA'S CERTIFIED GRAND MASTER SHARPENER
Member: NBTSG (USA) AKG (Assoc) HBIA (Assoc)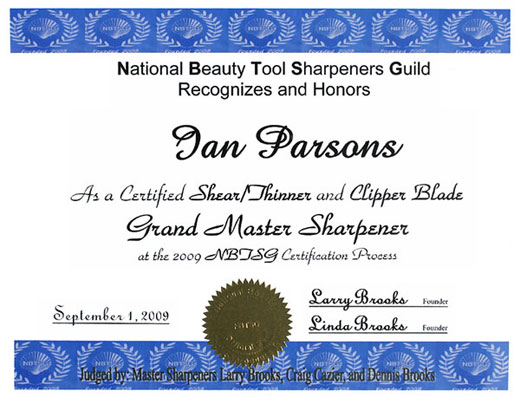 Ian Parsons becomes the first person outside the USA to achieve Grand Master Grade. By achieving Master Grade in the categories of Clipper Blades, Convex (Japanese style), Bevel (German style) and Thinning scissors.
Ian understands what it takes to make a perfectly sharp edge, this has been applied to his unique scissor and grooming sharpening techniques. Leading to world class competitive standards. A tendency to perfectionism, and a reputation for setting the standard, we are so confident that all our work is the highest quality, we guarantee it. 2014 saw Ian become the first International Sharpening Judge for the NBTSG.
Since 1992 we have specialised in animal and human clipper blade and scissor sharpening. Operated by Ian Parsons, Feather Edge Sharpening is a family owned business and is one of Australia's busiest sharpeners. Ian takes a hands on approach to all sharpening and repair problems, we service Australia wide with a rapid turn around, allowing your business to operate with a minimum of disruption.

Much of our unique grinding machinery is custom made, as we could not find anything suitable in the marketplace, and we still haven't! Developing some of our own sharpening equipment has lead to an intimate knowledge of machine and blade dynamics. We provide technical advice not only to our customers, but to the manufacturers and their distributor channels.

We are Repair Agents and Distributors for Wahl, and Import Double K Clipping Machines, Monk Lite Scissors and Andis Products. We service all types of other machines including: Oster, Shear Magic, Thrive, Laube and Sunbeam.

Always at the cutting edge of the sharpening world. Ian has developed a specialised grinding attachment for the German Arco/Bellisima clipper blade. The majority of Sharpeners regard this blade as the most difficult blade in the world to Sharpen reliably.
Established 1992
All Work is Guaranteed
Family Owned and Operated
Proven Master Grade Workmanship
We Provide Technical Advice and Servicing
Unique Custom Precision Made Grinding Equipment
Australia Wide Service with a rapid 12-24Hr Turnaround
Importers of Grooming Equipment, Scissors and Clipper Blades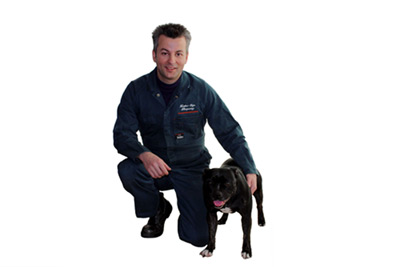 Ian and Team Member Ruby